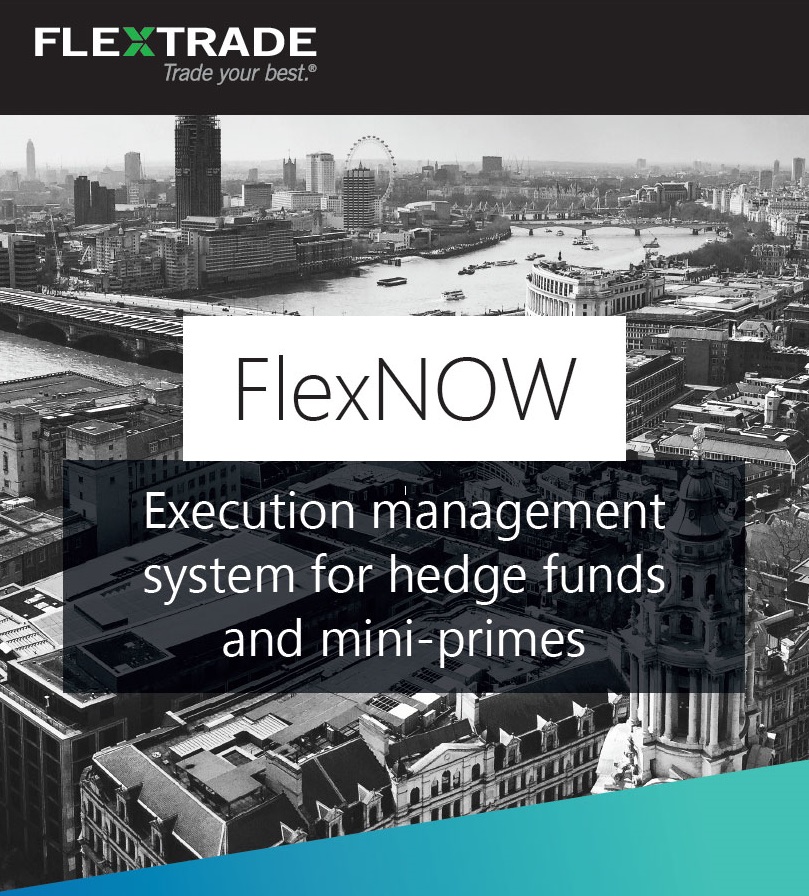 — One-Click Deployment System for Hedge Funds and Mini-Primes –
— MiFID II Compliant Trading for Equities, Futures & Options –
FlexTrade (@FlexTrade) today announced the official release of FlexNOW, an out-of-the-box, broker neutral EMS to address the needs of hedge funds and mini-primes who require a streamlined, multi-asset trading system at the click of a button.
Multi-Asset, MiFID II Compliant Trading — Designed to handle trading for equities, futures and options, FlexNOW is MiFID II compliant; provides connectivity to leading market data providers; easily integrates with any order management system (OMS) via FIX and API; and comes with its own built-in transaction cost analysis functionality.
One-Click Installation — According to Rhyd Lewis, FlexNOW Product Manager at FlexTrade UK, FlexNOW's zero-touch onboarding and installation process gets clients up and running in a matter of minutes. "By combining the one-click installation process with secure, online connectivity, we have greatly reduced the on-boarding lead time for customers," said Lewis.
Streamlined Trading Workflows — "We developed FlexNOW based on FlexTrade's industry experience and the feedback of our clients and prospects," continued Lewis. "It's this user research that helps us provide fresh updates to the platform to keep the trading workflows as effective as possible."
Currently available in Europe, the Middle East and Africa, FlexNOW already has more than 200 live users with firms such as Albar Capital, PSG Capital and Wesleyan Assurance Society recently joining as new clients. FlexNOW's availability across other regions of the globe will be announced in the coming months.
"FlexTrade is doing a great job for us," said Michael Perry, COO of Albar Capital. "Their collaborative approach and fast response time means that we regularly see the benefits of our feedback incorporated in a same-day platform update."
"We chose FlexNOW based on FlexTrade's proven track record in the trading technology space, the easy installation process, and because of the platform's access to a wide array of market data providers. Overall, we find FlexNOW to be an easy-to-use EMS that allows us to focus on trading and best execution," said Lucas Howarth, Fund Manager at Wesleyan.
FlexTrade will be showcasing a live demo of FlexNOW at booth 15 during TradeTech Europe at the Palais des Congrès in Paris, April 25-26.
To find out more about FlexNOW or to request a demo, please contact us at sales_eu@flextrade.com