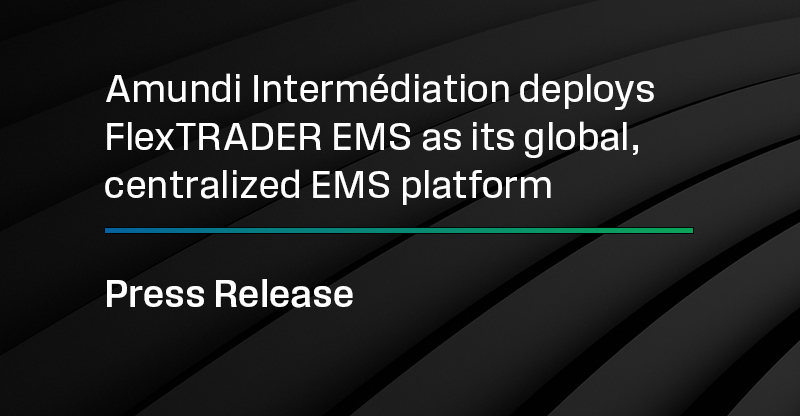 The firm will deploy FlexTRADER EMS to provide sophisticated automation capabilities across equities, derivatives, and fixed income.
LONDON, UK, July 26, 2023, FlexTrade Systems, a global leader in multi-asset execution and order management systems, today announced that European execution platform leader, Amundi Intermédiation, has selected FlexTRADER EMS to consolidate all asset classes traded onto a single, scalable, multi-asset EMS platform. Amundi Intermédiation, the execution business subsidiary of Amundi Asset Management, additionally acts as an outsourced execution provider for Asset Managers, Private Banking, and Insurance companies, globally executing approximately €5 trillion in assets under management across all asset classes for around 60 clients.
Consolidation of front office technology and automation initiatives are currently in sharp focus for global buy-side institutions to streamline and optimize execution workflows in equities and extend the efficiencies to other asset classes, including fixed income.
FlexTrade's FlexTRADER EMS solution will be deployed as Amundi Intermédiation's global, centralized EMS platform to deliver cross-asset trading capabilities to over 60 dealers within its international investment hubs across trading desks in Paris, Dublin, Singapore and Tokyo. The move is designed to deliver dealers a common, robust set of tools and processes to handle cross-asset trading and execution efficiently.
Further, by deploying FlexTRADER EMS, Amundi Intermédiation's dealing teams will benefit from sophisticated automation tools to streamline order and workflow management through FlexAlgowheel across all asset classes, enabling the firm to scale up its trading volumes alongside business growth efficiently.
With the move to deploy FlexTRADER EMS, Amundi Intermédiation will use FlexTrade's unique fixed-income capabilities to bring more automation and electronification to their bond executing operations. Amundi Intermédiation will replace existing multi-platform processes through a single fixed-income EMS and deliver an aggregated view of the market and bilateral connectivity to liquidity providers. Further, using FlexTrade's Fixed Income Smart Order Router (FISOR), its bond dealers can enrich their automation capabilities using consolidated pre-trade data to ensure best execution.
The project will be delivered in multiple phases, with equities and derivatives now live and in production across Amundi Intermédiation's global trading desks. Fixed income will be deployed by the end of the year 2023.
Andy Mahoney, Managing Director, EMEA at FlexTrade, noted: "We are delighted to welcome Europe's largest execution platform to FlexTrade. Proactively choosing to consolidate onto a single platform is a strategic vision to ensure Amundi Intermédiation's execution operations have the core trading technology platform its businesses need to deliver the best outcomes to its clients. Notably, Amundi Intermédiation will also leverage our fixed-income capabilities, further validating the growing trend in the market to electronify bond trading activities."
About FlexTrade Systems
FlexTrade Systems is a global leader in high-performance multi-asset execution management and order management systems for equities, fixed income, foreign exchange, futures, and options. A pioneer in the field, FlexTrade is internationally recognized for introducing FlexTRADER®, the world's first broker-neutral, execution management trading system, which allows clients to completely control and customize their execution workflows through a comprehensive ability to search/access liquidity while maintaining the confidentiality of their trading strategies.
For more information, please contact:
FlexTrade Systems: Iain Smith, Head of Marketing – EMEA
Email: Iain.Smith@FlexTrade.com