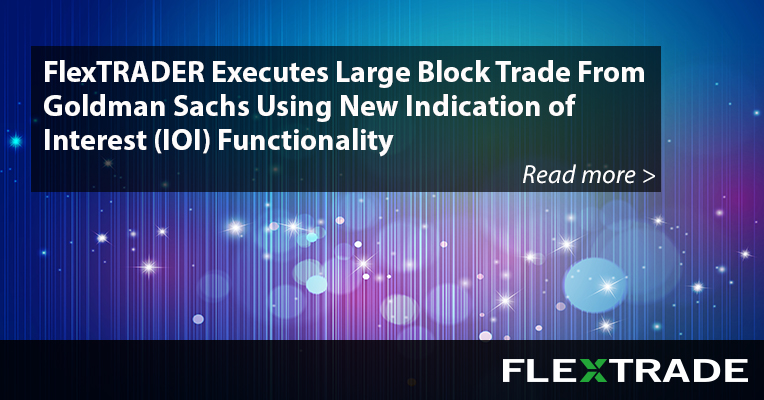 FlexIOI Provides One-Click or No-Click Interaction with IOI Liquidity Directly from the Trading Blotter
FlexTrade Systems (@FlexTrade) today announced the successful execution of a large block trade from an actionable Indication of Interest (IOI) sent by Goldman Sachs within the FlexTRADER EMS. The trade was completed using FlexIOI — a new, customisable feature of FlexTRADER, which allows users to trade on actionable IOI's from their blotter.
"We are delighted to offer Goldman Sachs actionable IOI's within the FlexTRADER EMS and to see the first trades flowing through successfully," said Andy Mahoney, Head of Sales at FlexTrade.
FlexIOI is a new framework for IOI distribution embedded into the FlexTRADER EMS and provides seamless, one-click or no-click interaction with IOI liquidity directly from the trading blotter. Traders are alerted in real-time to available IOI's for the orders they are working, ensuring they have a full view on all available liquidity avenues for achieving Best Execution under MiFID II.
"With MiFID II approaching, clients are becoming more focused on ensuring they take 'all sufficient steps' to achieve Best Execution," said Mahoney. "By integrating true, actionable IOI's directly into the trading blotter, our clients can easily interact with liquidity in a single click." 
"Actionable IOIs allow clients to trade in a systematic way from their EMS," said Ralston Roberts, Co-Head of Goldman Sachs Equity Electronic Trading in EMEA.
"Our partnership with FlexTrade allows us to better serve our clients by providing more directed and unique liquidity to their desktops."
Media Contact: 
Jim Tolve
Director of Marketing and PR
Tel: 1(516) 304-3601
james.tolve@flextrade.com