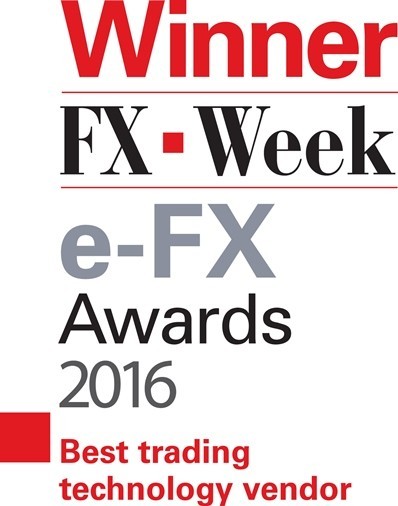 Captures Honor at FX Week's 13th Annual e-FX Awards Ceremony
GREAT NECK, NY, July 14, 2016 – FlexTrade Systems (@FlexTrade), a global leader in multi-asset execution and order management systems, today announced it has been named Best Trading Technology Vendor in the foreign exchange markets by FX Week at their 13th annual US conference in New York on July 12th.
The award, given by the editor and judges of FX Week, singled out FlexTrade for delivering FX trading technology that was deemed the best in terms of overall coverage and functionality, as well as adaptability in handling changing market conditions.
Vijay Kedia, President and CEO of FlexTrade, commented: "It is an honor to be recognized in the Best Trading Technology category of this year's e-FX awards. From both an operational and regulatory standpoint, we continually strive to offer technology solutions that are adaptable to the changing needs of our customers. We're delighted that the judges of the e-FX awards have recognized this, and supported our efforts by naming FlexTrade as the Best Trading Technology Vendor. Whether it's advanced TCA, smart order routing, liquidity aggregation, FIX-based allocations and forward points negotiations, or building a customized, global white label trading system, FlexTrade's solutions are designed to keep our customers ahead of the curve in terms of development and functionality. It's great to know that our products are recognized by this illustrious panel of judges; it's satisfying to know that our industry peers, as well as our legions of satisfied customers, acknowledge our efforts."
FlexTrade offers two primary trading platforms for the FX market, FlexFX (for the Buy-Side and Sell-Side), and MaxxTrader (FX White Label Solution). Both platforms are highly configurable and offer aggregated liquidity from more than 50 banks, ECNS and exchanges for trading spot, forwards, NDFs and swaps in a stream via RFS and RFQs. They also include real-time risk management, prepackaged and customizable algorithms as well as access to an array of broker algorithms.
Media Contact:
Jim Tolve
Director of Marketing and PR
Tel: 1-516-304-3601
Mob: 1-516-395-0549
james.tolve@flextrade.com