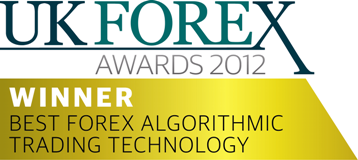 Receives Honor at Inaugural UK FOREX Awards 2012
London, October 25, 2012 – FlexTrade Systems, Inc., a global leader in multi-asset execution and order management systems, today announced it has won the "Best Forex Algorithmic Trading Technology" category at the inaugural UK FOREX Awards ceremony 2012, which was held at the Grange St. Paul's Hotel in London on October 18.
The UK FOREX Awards were created to recognize those companies in the FX markets championing cutting-edge technology, low-cost trading, comprehensive market research tools, advanced educational programs and world-class customer service. Winners were chosen via a survey facilitated by Shares Magazine, MoneyAM and Stock MarketWire in August and September 2012.
FlexTrade offers two primary trading platforms for the FX market, FlexFX and MaxxTrader (FX White Label Solution), which are sold separately or combined as a comprehensive package. Both platforms offer aggregated liquidity from more than 50 banks, ECNS and exchanges for trading spot, forwards and NDFs in a stream via RFS and RFQs. They also include integrated bank algos and custom algos, margin control, credit limits and dynamic spreading.