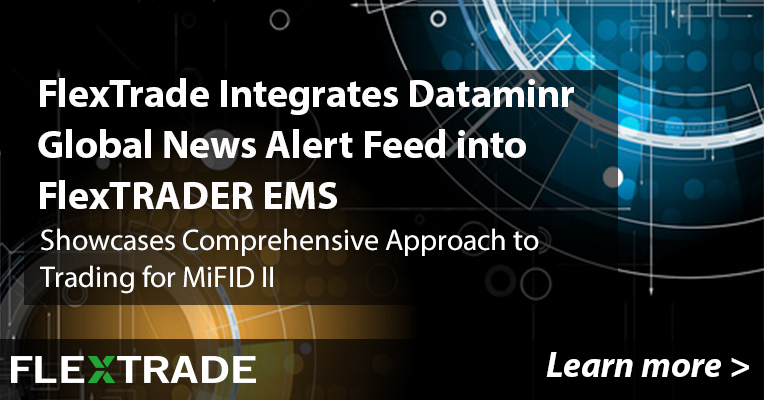 Enhances Best Execution Capability for MiFID II Compliance
London, 11 September 2017 — FlexTrade (@FlexTrade) today announced the integration of Dataminr, one of the world's leading businesses in AI and machine learning innovation, into the FlexTRADER EMS. The integration creates a global macro news alert feed within the FlexTRADER interface based on criteria pre-selected by the trader.
"With MiFID II on the horizon, the requirement to take 'all sufficient steps' to achieve Best Execution has driven our clients to explore alternative sources of data," said Andy Mahoney, Head of Sales at FlexTrade.
How It Works
Within the trader's Dataminr account, customised watchlists can easily be created ensuring that only the most relevant and directly impactful breaking news is delivered. For example, within a financial markets search, traders can choose to select alerts based on sub-categories including foreign exchange and fixed income. Watchlists may be created based on assorted criteria which can include company name, topics (finance, global awareness, general news etc.) and/or industry sectors (banking and finance, insurance, media etc.) to name a few.
"We are excited to deliver Dataminr's unique combination of content, speed, and coverage to the FlexTRADER EMS,"  said Steven Schwartz, President of Commercial Markets at Dataminr. "Bringing together a best in class execution management system with the leading real-time breaking alert platform is an unbelievable way of ensuring clients receive what they need to know right when it's most critical."
"Dataminr alerts arrive in the standard FlexTRADER alerts framework based on the customised topic, industry sector and region, giving traders a full view on content which may impact their trades," continued Mahoney.
From these watchlists, alerts are created which flow from Dataminr into FlexTRADER in real-time and are displayed in a column by the number received. Dataminr alerts can be used to trigger automated actions or trades alongside other characteristics of the order and real-time event information coming from a variety of other news sources. Additionally, alerts written in a foreign language can be translated into English.
"Our collaboration with Dataminr is aligned with FlexTrade's ongoing mission to integrate with market leaders to enhance the overall user experience for our clients globally, give them the edge over traditional market data, and ensure they achieve true Best Execution," said Mahoney.
FlexTrade and Dataminr will be launching the live demo of this integration at TradeTech FX at the Fairmont Rey Juan Carlos, Barcelona, on September 12 and 13 (Booth 2 and 3).
Contact
Jim Tolve
Director of Marketing and PR
Phone: 1(516) 304-3601
Email: james.tolve@flextrade.com