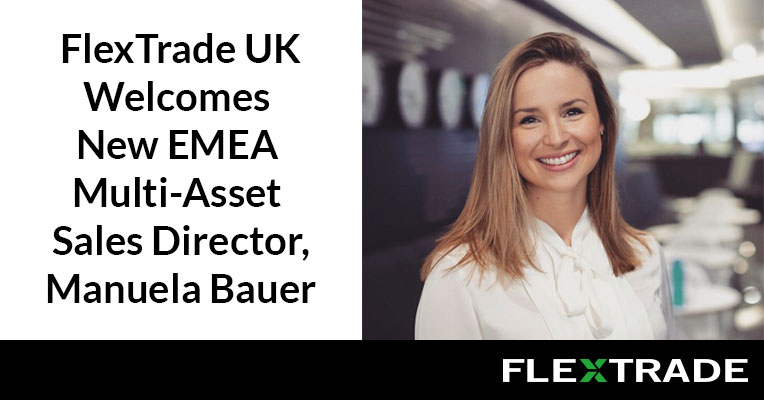 Expands EMEA Sales Team Due to Company Growth in 2017
London, 19 December 2017 — FlexTrade (@FlexTrade) today announced the expansion of its EMEA sales team with the hiring of a new Multi-Asset Sales Director, Manuela Bauer. The expansion of the team comes at the end of a successful year of cross-asset innovation for the business.
Bauer will be responsible for further strengthening FlexTrade's capability in multi-asset class sales. She joins FlexTrade from MTS, London Stock Exchange Group's electronic fixed income trading markets, where she was responsible for buy-side sales in Germany and the Nordics. Prior to joining MTS, she held various positions within London Stock Exchange Group's Capital Markets division in London and Milan.
"We are delighted to welcome Manuela to the sales team at FlexTrade," said Andy Mahoney, Head of Sales for EMEA.
"Her experience in fixed income and extensive network on the buy-side in continental Europe ensures our pipeline will continue to grow throughout 2018."
Bauer's new responsibilities include growing FlexTrade's newly launched Fixed Income EMS across continental Europe and working closely with the buy-side to support FlexTrade's delivery of best in class cross-asset trading solutions.
"After an exceptionally strong 2017 and the launch of our fixed income platform, Manuela is the perfect addition to the cross-asset sales team going into 2018," continued Mahoney.
Request a copy of our latest whitepaper 'MiFID II:2018 Fixed Income' here.
To find out more about FlexTrade's trading solutions, please contact us at sales_eu@flextrade.com.
Media Contact:
Jim Tolve
Director of Marketing and PR
Phone: 1 (516-304-3601
Email: james.tolve@flextrade.com