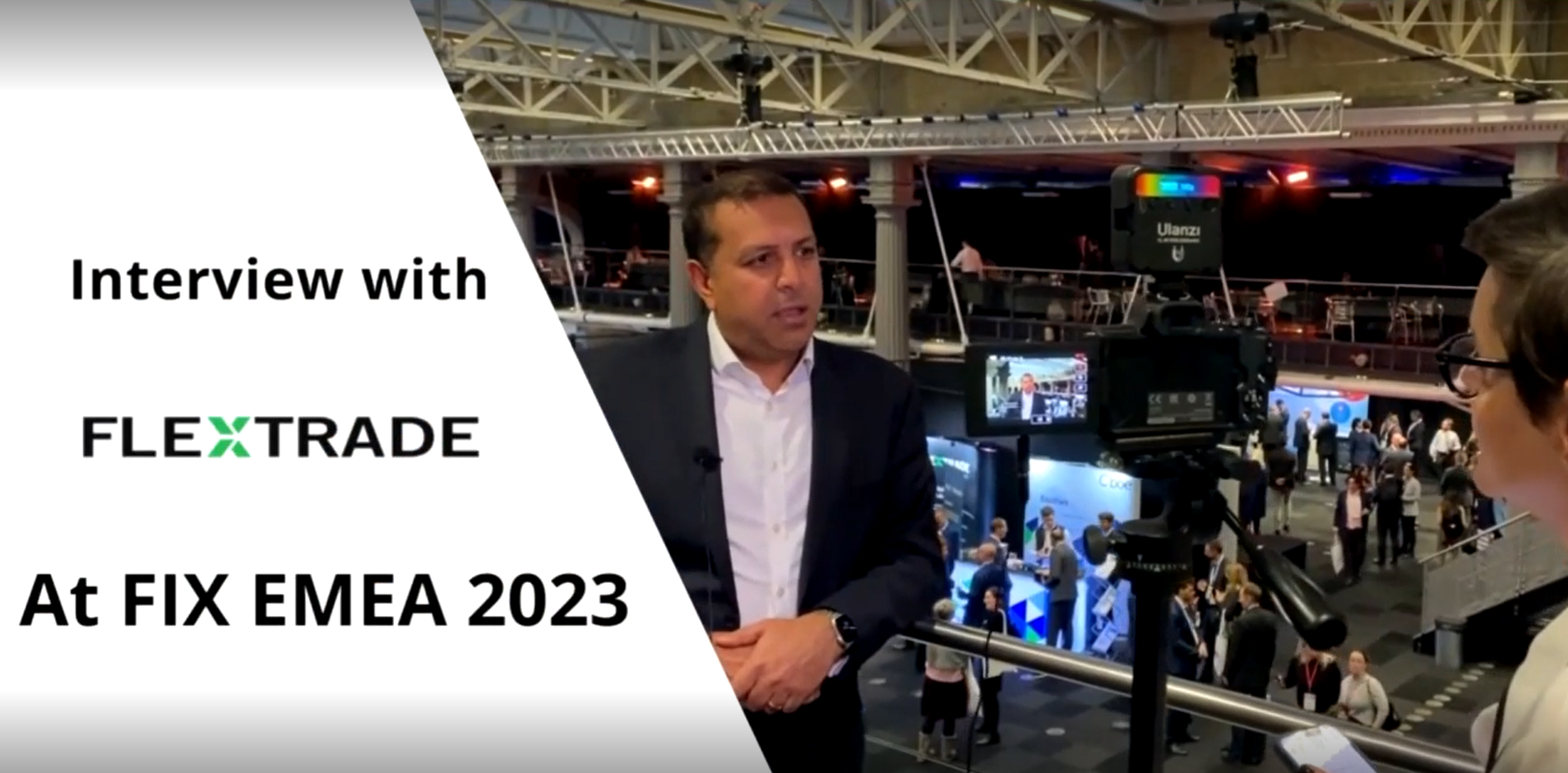 In today's competitive environment, cutting-edge technology matters for sell-side trading desks. From diversification to new asset classes to seamlessly handling changing and complex client demands, an innovative and customizable OMS technology platform is now crucial to keep pace and stand out in the market.
To discuss the latest challenges around sell-side trading, Streets Consulting met FlexTrade's Head of Sales for Sell-Side Solutions in EMEA, Rajiv Shah, at FIX Trading Conference EMEA, 2023.
Tell us about the FlexOMS Solution.
The great thing about our FlexOMS solution is that it's actually what I call a "full-service OMS". Firstly, it has an open architecture which means we have very powerful APIs allowing our customers to integrate and expand the usage and build innovative ideas around the core product. Secondly, I call it "full service" because it copes with high-touch and low-touch flows and covers several asset classes, including equities listed derivatives, fixed income, and FX.
From a workflow perspective, you can do cash, program trading, you can do ETFs, and you can do swaps. We can help automate and consolidate the sell-side sales and trading desk requirements.
What are the challenges that FlexOMS solves for the sell side?
Regarding challenges, our customers and prospects have to deal with a marketplace that is getting increasingly complex. There is much more regulation to deal with. For example, we've had MiFID and MiFID II,  which have impacted our customers. On top of that, they have to deal with more volume. Commission rates are coming down and have been coming down for a long time, which means you have to deal with more volume to retain your revenue at a certain level. Finally, just the volume of data that teams are having to deal with has grown exponentially.
What FlexOMS does concerning these challenges is first to bring those things together. FlexOMS can cover many different workflows and asset classes. We can simplify things and allow the end user to automate more within the platform and have control over that automation through self-service. Secondly, we deliver the ability to see that data and make sense of it in a much more simplified way.
Who are your typical FlexOMS customers?
The mainstay of customers is Banks or Brokers with a sell-side sales and trading desk across the different asset classes. Within that, there are many different functions, so we've got agency trading, proprietary trading, and program trading desks managing all these different types of workflows – they would be our mainstay type of customer.
We also see a lot of increased demand from outsourced dealing desks, which are set up independently of buy sides. These desks offer buy-side type trading capability to buy-side firms where some or all of those flows are outsourced to them. However, their requirements are very sell-side-like in terms of complex order management, the use of algorithms, and the need for very powerful APIs to extract orders to input data into the platform.
How does FlexOMS help sell side firms in particular?
As I've touched upon, the environment has got increasingly complex, and the sell-side OMS that we have simplifies that for our customers. We offer a platform that can cope with the different workflows and provide the tools to allow our customers to automate more within those workflows to deal with those larger volumes.
On top of that, the flexibility that you get with FlexOMS through its powerful APIs allows customers, if they have new revenue-generating ideas, to make the changes using our APIs and our tools to support the flows, which are new ideas effectively. So you don't have to wait for the vendor to build that.
What feedback are you getting from your sell-side customers?
In the conversations I've been having over the last few months, the usual things are still there – help us to simplify and help us to bring things together. Still, the common themes are reliability and stability. A trading solution such as FlexOMS is a mission-critical platform, so firms need to be confident that their capabilities are stable and that they have very high availability.
Last but not least, I hear that they value that an organization can come with advanced technology capabilities. Still, they also need strong domain expertise and a partner who understands the market. FlexTrade has been around for 25 years, supporting buy and sell sides understanding what both sides of the equation need to do, and they value that.
Interested to see FlexOMS close-up?
Request a Demo
"*" indicates required fields