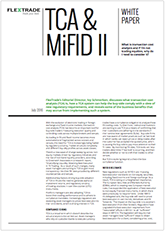 Download the whitepaper.FlexTrade's Editorial Director, Ivy Schmerken, discusses what transaction cost analysis (TCA) is, where it fits in a MiFID II regulatory compliance strategy, and reveals some of the business benefits that may accrue from implementing such a system.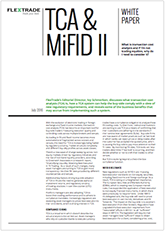 With the evolution of electronic trading in foreign exchange and fixed income markets, transaction cost analysis (TCA) has become an important tool for buy-side traders measuring execution quality and controlling costs across multiple brokers and venues.
As trading in FX and fixed income becomes more automated and fragmented across brokers and venues, the need for TCA is increasingly being fueled by regulatory scrutiny, market structure complexity and different liquidity profiles across asset classes.
There's a new wave of change sweeping across non-equity markets driven by regulatory initiatives and the rise of non-bank liquidity providers, according to…
To continue reading, please fill out the form and we'll email the full white paper to you.