Download the whitepaper.
As we approach the final stages of MiFID II approval, FlexTrade's Editorial Director, Ivy Schmerken, considers what the rules on unbundling are likely to include, and what the impact on the buy-side and the sell-side is likely to be.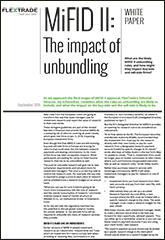 New rules from the European Union are going to transform the way that asset managers pay for investment research and report the value of research to their end clients.
These stringent guidelines are part of the revised Markets in Financial Instruments Directive (MiFID II), a sweeping set of reforms covering all asset classes, which goes into force on Jan. 3, 2018, impacting European investment firms.
Even though the final MiFID II rules are still evolving, buy-and sell-side firms in Europe are bracing for reforms that could sever the link between research payments and dealing commissions. So far most of the focus has been on…
To continue reading, please fill out the form and we'll email the full white paper to you.