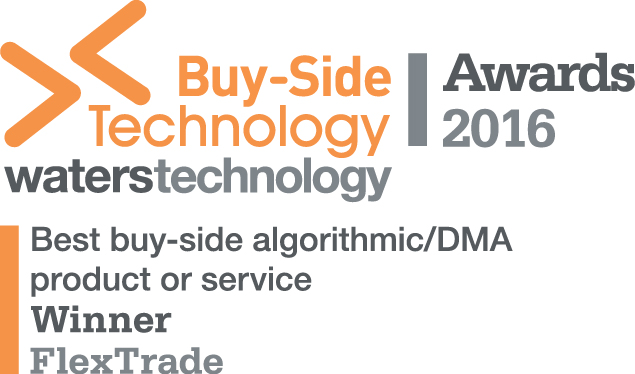 London, November 10, 2016 – FlexTrade Systems (@FlexTrade), a leader in multi-asset, algorithmic trading systems, today announced its FlexTRADER execution management system (EMS) has been named the Best Buy-Side Algorithmic / DMA Product or Service at this year's Buy-Side Technology Awards, which was held at The May Fair Hotel in London on Friday, November 4.
FlexTRADER was chosen for the award after a careful review by a panel of seven industry judges comprised of five buy-side-focused technology consultants and two of Buy-Side Technology's editors.  They considered platform functionality such as the variety of pre-packaged trading algorithms; the ability to test strategies; the ability to analyze and interpret market events; and its ease of use and easy to understand GUI.
FlexTRADER is a multi-asset execution management system for trading individual securities or portfolios in equities, FX, equity options, futures and fixed income. It provides out-of-the-box cross asset trading strategies which can be customized, global access to broker algorithms, as well as the ability to build proprietary algorithms.