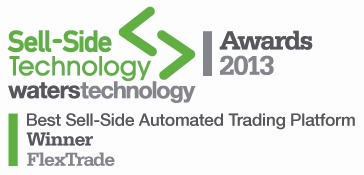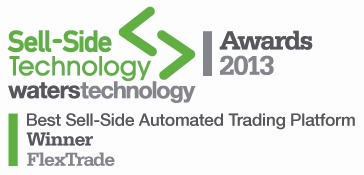 GREAT NECK, NY, April 25, 2013 – FlexTrade Systems, Inc., a global leader in multi-asset execution and order management systems, today announced its FlexTRADER EMS has won the "Best Sell-Side Automated Trading Platform" category during this year's Sell-Side Technology Awards, which was held by Waters magazine at the New York Marriott Marquis on April 23.
FlexTRADER was chosen for the award after a careful review by a panel of eight industry judges — four sell-side CIOs/consultants and four of Waters magazine's senior staff members.
According to Vijay Kedia, President and CEO of FlexTrade, "Winning this award is particularly satisfying for its sell-side focus. It's a validation of our long standing commitment to provide our clients with the latest and very best in EMS and OMS technology in terms of development and functionality."
FlexTRADER is a multi-asset execution management system for trading individual securities or portfolios in equities, FX, equity options, futures as well as fixed income. It provides out-of-the-box cross asset trading strategies which can be customized, global access to broker algorithms, as well as the ability to build proprietary algorithms. The platform also provides organically developed pre-trade, real-time and post-trade analytics (FlexTQM), predictive analytics (FlexEdge); risk and cost optimized portfolio trade scheduling (FlexPTS); integrated real-time allocations and cash management; smart order routing; a fully integrated high performance Complex Event Processing (CEP) engine; commission management; complete transaction and IOI quality management, and a dynamic strategy matrix. In addition to equities, FlexTRADER facilitates foreign exchange trading via the award winning FlexFX, while equity options and futures trading are administered by FlexOPT, Derivix and FlexFutures, respectively. For fixed income trading, the system is certified to trade US treasuries as a member of the BGC Partners Preferred Vendor Program.
About FlexTrade Systems, Inc.
Founded in 1996, FlexTrade Systems Inc. is the industry pioneer in broker-neutral algorithmic trading platforms for equities, foreign exchange and listed derivatives. With offices in North America, Europe and Asia, FlexTrade has a worldwide client base spanning more than 175 buy- and sell-side firms, including many of the largest investment banks, hedge funds, asset managers, commodity trading advisors and institutional brokers. For more information, visit FlexTrade Systems at www.flextrade.wpengine.com or follow news of the company on Twitter at www.twitter.com/flextrade or LinkedIn at http://www.linkedin.com/company/flextrade?trk=top_nav_home.