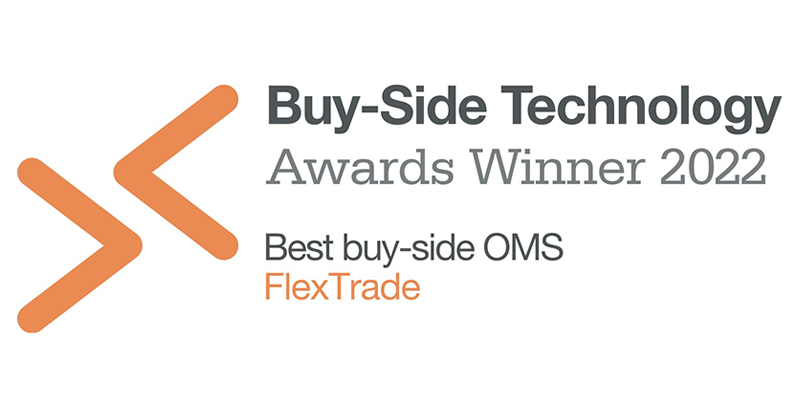 FlexTrade is honored to have won "Best Buy-Side OMS" at the 2022 WatersTechnology Buy-Side Technology Awards, one of the most coveted categories of the all the 35 awards given during this event.
The Awards were announced on November 4th, 2022 during a virtual presentation. A write-up by Waters Technology can be found here.
About the Award
The Buy-Side Technology Awards, hosted by WatersTechnology, aims to recognize leading technologies and third-party vendors in their areas of expertise through an auditable and transparent methodology. The awards focus on market-leading technologies developed specifically for use by buy-side firms and innovation allowing the buy-side to maximize operational efficiency.
Solution Overview – FlexONE OEMS
FlexONE is a multi-asset order management system (OMS). It is designed to allow hedge funds and traditional asset managers to integrate disparate workflows into a single, centralized, intraday system. FlexONE captures multi-asset workflows from beginning to end―order generation, intraday P&L and risk, fund/prime allocations, order marking, short locates, pre- and post-trade compliance, and operations―and is integrated with the firm's multi-asset execution management system.
What problem does it address?
FlexTrade sees its focus on open integration with other best-of-breed technologies and internally built client solutions as one of its key differentiators. Built from the ground up with a focus on speed and scalability, FlexONE enables an open and API-driven workflow that allows clients to onboard numerous workflows from user-interface-based teams, systematic teams and multi-portfolio management constructs. Leveraging Scala, gRPC APIs and in-memory access allows FlexONE to handle complex and intensive workflows.
How we differentiated
Technology: FlexONE was built API-first, which means that all workflows found in the GUI are accessible via APIs. This framework ensures that end-users can customize workflows and views without forcing a one-size-fits-all solution.
Service: FlexTrade's implementation team is the same group that manages the long-term relationship post go-live, instead of bifurcating the client service group
Recent Milestones
Digital assets enhancements―clients can now source digital assets/crypto liquidity from exchanges and market-makers into FlexTrade's aggregator (spots and derivatives), stream or RFQ prices, execute directly through FlexONE, while also leveraging FlexAlgos.
Additional risk factor model providers for real-time factor analytics.
Decision-support tool/portfolio modeling enhancements, including advanced rebalancing methodologies and what-if analysis.
To learn more about FlexONE OMS contact sales@flextrade.com or visit the FlexONE Product Page.