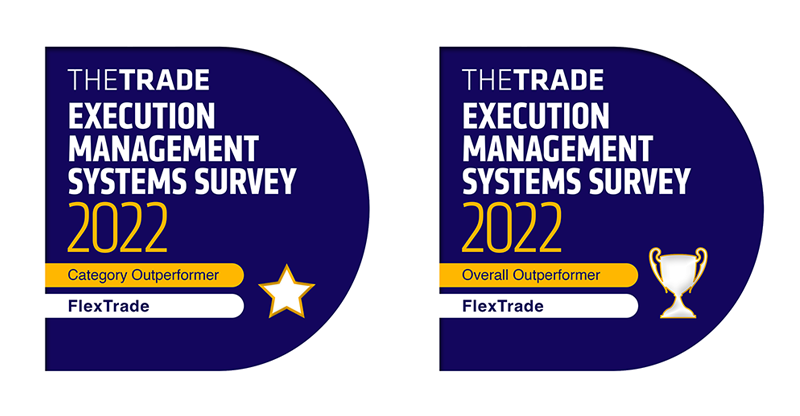 The Trade News recently announced the results of its global industry-wide, annual Execution Management Systems survey (The Trade EMS Survey).
The survey, now in its tenth year, invites buy-side investment professionals to rate their EMS providers across thirteen functional categories, including technology, product, innovation, and client service.
The annual ranking has become a mission-critical temperature check for trading professionals and the supporting operations and technology functions to understand the full breadth of market solutions available and benchmark their incumbent vendors against industry standards.
Key FlexTrade Highlights from the 2022 Survey:
FlexTrade outperformed the average score in ALL 13 categories available, with an overall average survey score of 6.17, a +0.42 increase from 2021.
FlexTrade's highest score was in Breadth of Broker Algorithms (6.51), followed by FIX Capabilities (6.34) and Latency (6.28).
FlexTrade's most significant year-over-year improvements were in Product Development (+0.80), Timeliness of Updates to Broker Changes (+0.72), and Client Service Personnel (+0.56)
FlexTrade ranked top in Product Development and Innovation with a score of 6.24. The survey commentary highlighted that innovation is a priority for buy-side trading teams going into 2023.
The Trade EMS results inform the shortlist for the upcoming The Trade Leaders in Trading Awards 2022. Based on overall performance, FlexTrade is nominated in 5 categories

EMS Awards 2022

Best Market Access
Best Platform Reliability
Best Large Cap Provider
Best Overall – Europe
Outstanding Trading Technology Provider (as part of Editors' Choice Awards)
A full copy of the survey paper can be downloaded, here – Execution Management Systems Survey 2022 – The TRADE (thetradenews.com)