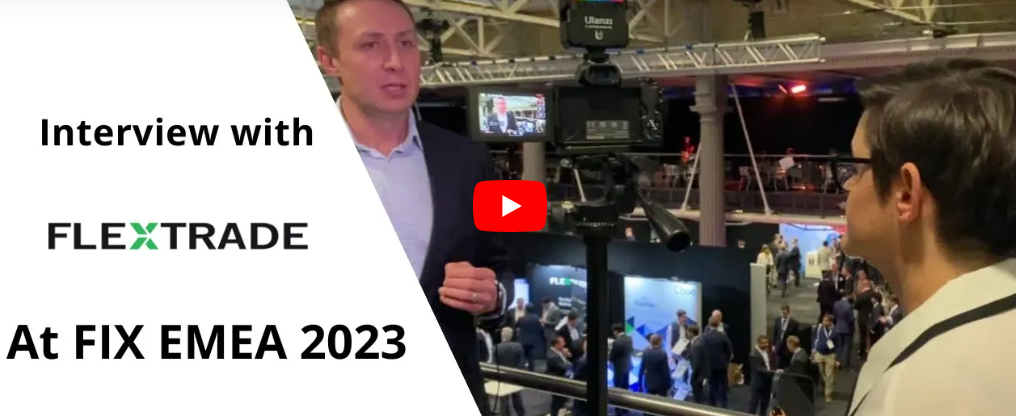 Over the past 18 months, FlexTrade's Order and Execution Management solution, FlexONE, has gone from strength to strength in EMEA. During this period, the solution has picked up high-profile clients within the hedge fund and asset management space and scooped various industry awards, including "Best Buy-Side OMS" at Water Technology Buy-Side Technology Awards 2022, and most recently, "Best Buy-Side OMS" at A-Team Group's TradingTech Insight Awards 2023.
To dig deeper into the recent growth of the solution, Streets Consulting caught up with FlexTrade's Director of Sales and Business Development for FlexONE, Dan Enstedt.
What are the latest developments with FlexONE?
The last time we spoke was at TradeTech in Paris, around one year ago, and since then, a lot has happened. We have had a very exciting year, and 2022 was really a stepping stone for us to expand our FlexONE business in EMEA. We've added many new clients and grown our implementation and pre-sales teams – it's a really exciting place for us to be.
It would be fair to say that 2023 has started off equally well. The FlexONE journey has really been about building the most comprehensive modern, scalable order and execution management system available – built on really great technology. We've been lucky enough to partner with some of the most sophisticated hedge funds and asset managers, which has allowed us to really build an amazing foundation, and that's where a lot of our success comes from.
What challenges do you solve with FlexONE?
It depends very much on what kind of client we're speaking to. Firstly, is it a hedge fund or an asset manager? If it is a hedge fund, what kind of hedge fund is it –  for example, is it a multi-strat that has been trading certain asset classes for a long time, wants to add a new asset class but doesn't have the appropriate technology platform to be able to do so?  Is it a hedge fund that has been running on old technology for a long time and wants to be more efficient and have better control? With FlexONE being a fully integrated order and execution management system, we can step in and provide a fully cross-asset multi-asset OEMS solution.
Further, we have a super strong API, a gRPC API, and we can really help with our modern technology. Whether firms are looking to add a specific strategy or a systematic strategy or searching for a solution to deliver scale and throughput, we can help a lot.
Who are typical FlexONE users?
So, typical FlexONE clients would be larger hedge funds and also more traditional asset managers. For example, we're now seeing a big interest from asset managers that want a fully integrated order and execution management system, which allows the traders to work much closer with the portfolio managers.
FlexONE can help with this and deliver bespoke integrations.  We have the likes of Barra or Qontigo, where you can incorporate risk factor models, and our decision support tool is where the portfolio manager lives and breathes in our OMS. We're seeing a lot of interest in this area because not many vendors can today offer a true, fully cross-asset and integrated order and execution management system.
What enhancements have you made to FlexONE recently?
So there's been many enhancements to FlexONE.  Some of the most recent and maybe most significant have been adding digital Assets in FlexONE – you can now trade crypto and other digital assets on exchanges or through market makers.
Additionally, we have added something called Order Status Updates, where brokers can communicate if you send an algo to them. They can communicate back what the preferred algo would be and also give you real-time information about that particular algo you're sending. If there's any residual left at the auction, just giving you a lot more data there, and then rather than at the end of the month, when you might have your broker algo evaluation discussion. In addition to that, we also built out our integrations with risk factor models, which truly improve that workflow.  We have also improved our decision support tools, building out "what if" scenarios and adding more complex workflows for portfolio managers to operate within in FlexONE.
Interested to see FlexONE close-up?
Request a Demo
"*" indicates required fields