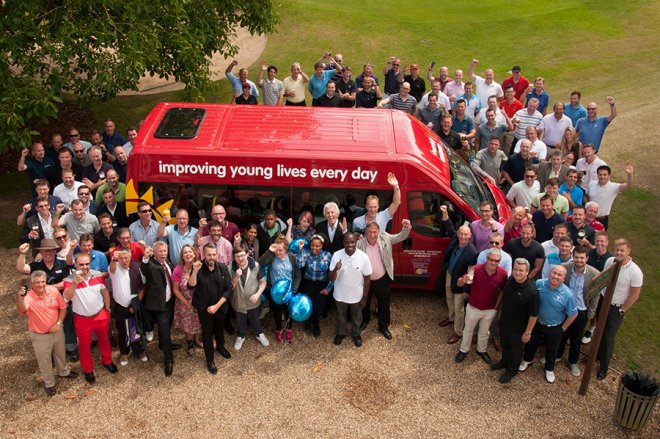 A Great Day of the Year!
By Peter Bondesen, FX Sales Manager, FlexTrade UK
FlexTrade is a consistent supporter of various charities globally, and in London on 4 July 2016, through an ACI UK sponsorship, FlexTrade has once again helped Variety, The Children's Charity, buy a Sunshine Coach for disadvantaged children.
Throughout your career, certain days stand out because events happen that you can't imagine ever forgetting. In the financial sector such events normally affect the markets, inducing volatility, but once in a while we are fortunate enough to experience events away from the markets that are not just memorable, but truly inspiring.
ACI UK (The Financial Markets Association) organises a charity golf day each year at the prestigious Buckinghamshire Club, which culminates, not with the prize giving, but with the handover of keys for a specially adapted bus to a school for disadvantaged children.
There is nothing quite like seeing the happy faces of the kids as they open the doors. They are suddenly able to have experiences that beforehand simply weren't possible for the school to provide for them, as specialist transportation is very expensive to organise – and public transport is public transport! One kid was heard saying "every day is now an adventure."
All the participants you speak to on the day, both from the organisation behind it and the golfers themselves, agree that this particular cause is humbling and quite special. Having had my own experience with the issue, which is emotional and hard to manage as parents and carers, the support for Variety is very close to my heart. Being able to help different charities in the current climate, particularly despite tough market conditions following Brexit, is extremely important; our efforts will help people less fortunate than ourselves change their lives for the better.
And yes, every golfer loves a round of golf on a great golf course, but it is not the round of golf that the players will remember most vividly a couple of years from now. Thanks again to ACI UK for organising this terrific day – and particular thanks to Al Crane and Tina Kane – we are already looking forward to next year!