Fixed Income Leaders Summit Amsterdam 2018 Recap
From the 6-8th of November, FlexTrade exhibited at the Fixed Income Leaders Summit in Amsterdam, where more than 300 industry participants from leading buy-and sell-side firms attended. This was FlexTrade's second consecutive year sponsoring the event.
Booth #26
At FlexTrade's booth #26, our sales team — Andy Mahoney, Manuela Bauer, Oliver Boatfield and Lee Sherling – demonstrated FlexTrade's Fixed Income trading solution, illustrating all its integrations and advanced trading functionalities.
Day One Interview and Debate
FlexTrade's Head of Sales for the EMEA, Andy Mahoney, began the day with a video interview with the The TRADE discussing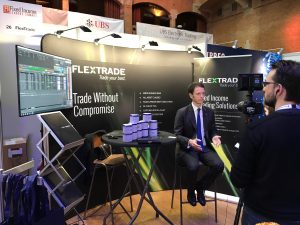 the current role of the Fixed Income EMS and how it has changed post-MiFID II. Mahoney also highlighted FlexTrade's emphasis on trading workflow, the process of best execution, having a provable and repeatable process, and being able to show from start to finish what happens with an order. In conclusion, Mahoney discussed FlexTrade's near-term focus, which includes expanding its third-party integration program with venues, market places, data providers, etc.
Andy Mahoney also participated in an Oxford-style debate, "True or False: The fragmented landscape of the asset class and high touch nature means a fixed income EMS is not needed", where he took the "False" side of the argument and highlighted the importance of having an EMS in the fixed income space.
In support of his stance, Mahoney stressed that traders need evidence for their best execution processes, and that data aggregation will only become more complicated. He also dismissed counter-arguments that it was preferable for the buy-side to build their own Fixed Income EMSs rather than buy one and stressed that FlexTrade did not simply transplant its equities EMS into the Fixed Income space. Instead, FlexTrade built its Fixed Income EMS from scratch; it's a completely new product that will save time and money in development for asset managers.
For further information about FlexTrade's trading solutions, please contact us at Sales@flextrade.com.